Boca Raton Pool Deck Pavers & Tiles
Your perfect pool deck is waiting. Hire the pool pros of Boca Raton for your pool deck tile and paver needs. Contact us now to guarantee our lowest prices.
Contact our team today to receive a quote for pool coping, deck pavers, and tiles.
Most homeowners aim to create an inviting and functional outdoor space. Hence, choosing a suitable material for the pool deck is a crucial decision. One option that has gained prevalence recently are pavers—an option offering a high level of durability, aesthetics, and safety. From numerous design possibilities to ease of maintenance and long-lasting performance, pool deck pavers are a compelling option.
Our team at Excel Pool & Patio Solutions provides a wide range of options of pool deck pavers to ensure you get the perfect aesthetic that suits your style. Don't wait to show off your new oasis this summer. Contact us now and learn about our services in Boca Raton, Florida!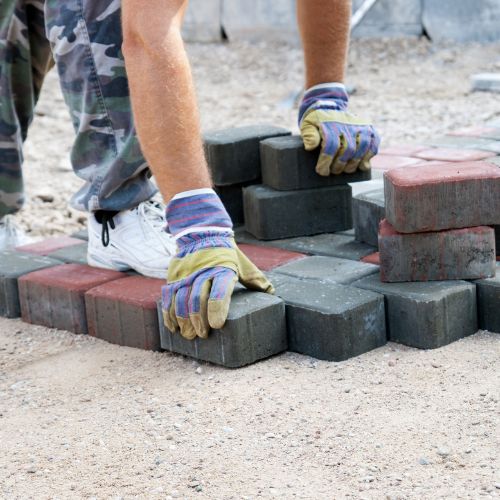 Why Choose Our Pool Deck Pavers for Your Outdoor Space?
Though the choice of material is crucial to the quality of your pool deck pavers, the level of workmanship is also a factor worth noting. At Excel Pool & Patio Solutions, we take immense pride in providing exceptional service to ensure you get pool deck pavers that surpass expectations. Our attention to detail, client satisfaction, and quality craftsmanship sets us apart from the rest, and here's why:
Quality of Workmanship
We consist of experienced and skilled installers who pay extreme attention to detail. As such, we ensure that your pool will have pavers installed correctly, with proper alignment, precise measurements, and consistent pacing, all of which will contribute to a long-lasting deck.
High-Quality Materials
At Excel Pool & Patio Solutions, we refrain from using cost-cutting measures, and thereby steers away from lower-grade or unsuitable materials. You can rest assured knowing that the materials we use can withstand the harsh demands of the pool deck environment.
Attention to Drainage
Drainage is often neglected, yet it can make the difference between potential damage that would eventually ruin the pool deck. Our team will thoroughly assess the site and plan for adequate drainage. We use techniques to ensure that the pavers will facilitate water runoff.
Timeliness
Pool deck construction is a huge project, so it's not unusual for homeowners to be weary about every minor detail.
Our company will put effort into providing accurate timelines, keeping our clients informed about any potential changes or delays, and strive to complete the installation within the agreed-upon timeframe.
Overall Professionalism
We are responsive to inquiries and will provide you the details you require, be it proposals or contracts. Our team also adheres to safety regulations to ensure there are no conflicts or issues before, during, and after the pool deck pavers installation.
Exploring Pool Deck Paver Materials
Although "pavers" is a pool deck option by itself, it also comes with other types. Particularly, pavers can come in a wide variety of styles and materials, each of which allows a level of customization that may or may not match your personal tastes. Each option can also prove to be an excellent complement to the overall design you're going for with your outdoor space.
As you consider which is the ideal material for your pool deck pavers, let our team of experienced professionals at Excel Pool & Patio Solutions  guide you through the installation process. We pride ourselves on delivering craftsmanship and exceptional service for everything pool-related, ensuring that your outdoor oasis not only looks remarkable, but also stands the test of time.
Let's take a closer option at these options:
Concrete Pavers
Concrete pavers is perhaps the most common type you'll come across. Their prevalence comes from their versatility, durability, and most importantly, affordability. In addition, concrete pavers  can come in various sizes, colors, and shapes, so it's lacking in the customizability department. What you'll find interesting, however, is that concrete pavers seem to have the ability to mimic the appearance of other options or materials in this list, be it brick or natural stone. Needless to say, concrete is the way to go if you want a cost-effective yet attractive paver.
Pool Coping
High quality pool coping makes the difference in the longevity of your pool. Prevent leaks and ensure a beautiful pool for years to come with our selection of professional grade pool coping.
Brick Pavers
We find that brick pavers tend to be the ideal material for homeowners who wish to create a pool deck that emanates charm and warmth, a characteristic other materials may find difficult to achieve. Like concrete, bricks can come in a variety of patterns like basket weave and herringbone. The material also has several color options. Lastly, brick pavers offer a high degree of safety due to their slip-resistant surface.
Rubber Pavers
If comfort and safety is the name of the game, rubber pavers would be your best bet. These pavers are known for their cushioned and slip-resistant surface, minimizing the risk of injury around your pool. As such, it's the most sought-after option for those with children.
Natural Stone Pavers
Natural stone pavers are the perfect option for homeowners who wish to make their pool deck look more high-end or luxurious. Natural stones materials like granite, bluestone, limestone, and travertine all offer unique textures and patterns that can easily achieve this.
Though they are often more expensive than most options, their longevity and beauty will more than make it worthwhile.
Porcelain Tiles
Porcelain pavers is the material most suitable for modern houses that wish to achieve a sleek appearance. Apart from their synergy with the modern design movement, porcelain pavers are also renowned for their toughness, mostly due to being non-porous and stain-resistant.
You'll also find that porcelain pavers tend to require maintenance less frequently than most of its alternatives.
We guarantee a smooth experience from start to finish.
Contact our pool pros today to receive a free consultation and pool inspection.
Fill out the form or call/email us to speak to an authorized Excel Pool & Patio Solutions representative. Please allow up to 48 hours for a response by email or form submission.
COMPLETE THE FORM BELOW TO CONTACT OUR TEAM