Boca Raton Pool Cleaning Services
Your perfect pool is waiting. Hire the pool pros of Boca Raton.  Contact our team today to request a free consultation.
Contact our team today to receive a quote for pool cleaning services.
Pool cleaning is a necessary evil that every pool owner must do. However, we know that not all swimming pool owners have the time to clean their pool regularly. 
Fortunately though, this is where we come in. Excel Pools & Patio Solutions can be your go-to for pool cleaning in Boca Raton. Our team can do everything that is necessary to make sure that your pool remains completely spotless. After all, nobody wants to swim in a dirty pool.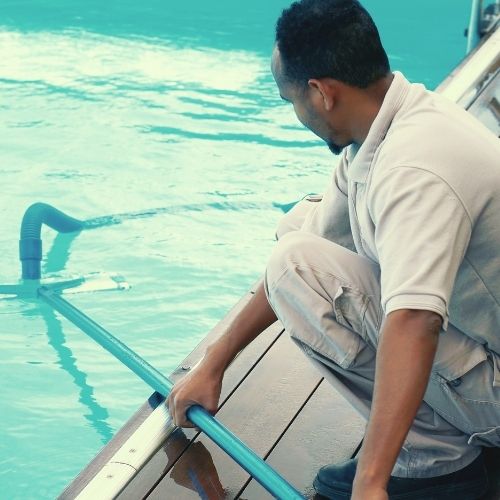 Our Pool Cleaning Services
Here at Excel Pools & Patio Solutions, we offer the complete cleaning package. Below are a few of the pool cleaning services that many of our regular clients avail of:
Brushing walls and other troubled spots.

Testing and balancing out pool chemicals.

Filter cleaning and replacement.

Skimming the surface to eliminate floating debris.

Pool vacuuming when necessary.
In addition to what's mentioned, we also provide a lot of other cleaning services. Now if you've got a special job that needs to be done, make sure to give us a call. Consult our experts and they'll immediately be able to determine what you need to get done and how much it'll cost.
Why Choose Excel Pools & Patio Solutions?
The reason why you should choose us is that we're experts in our field with a deep passion for anything and everything that's related to pools or patios. We love to clean dirty pools not because they're unsightly. Rather, because they're health risks that need addressing.
As such, if you've got a dirty pool and want to have it cleaned as soon as possible, get in touch with our team. Following an initial consultation, we can head over to your place and make your pool absolutely spotless in no time.
Remember, nobody is better at pool cleaning in Boca Raton than Excel Pools & Patio Solutions!
Our workflow is simplicity at it's best.
Contact our pool pros today to receive a free consultation and pool inspection.
Fill out the form or call/email us to speak to an authorized Excel Pool & Patio Solutions representative. Please allow up to 48 hours for a response by email or form submission.
COMPLETE THE FORM BELOW TO CONTACT OUR TEAM