Concrete Vs Gunite Pool: Which Is Better?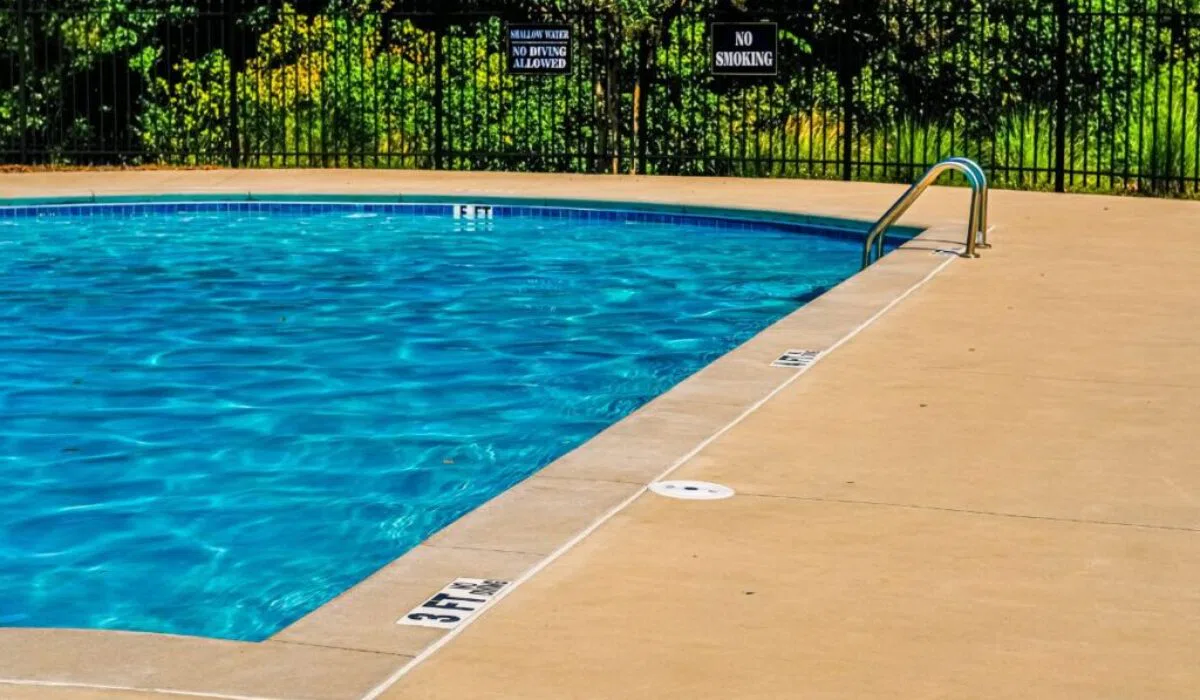 Published November 9, 2023
Are you tired of the same old rectangular pool design? Do you want a pool that not only stands the test of time but also makes a statement? The choice between gunite and concrete pools is more than a decision. It's a poolside revolution waiting to happen. 
Gunite and concrete are the top choices for in-ground pools, competing for the best swimming experience. Both offer durability and luxury at a price worth diving into. But let's not dive in yet. These pool materials have some vital, game-changing differences you need to consider. 
In this article, we'll take a close look into this showdown. It's not a choice between pools. It's a choice between elegance and endurance. Let's dive deep into the concrete vs gunite pool debate – a clash of notable materials in pool construction.
Gunite Vs. Concrete: Which Is Best For Your Pool?
Pool installation consists of many steps. It includes digging, installation of plumbing lines, steel reinforcement, installation of electrical cords, and city inspections. Afterward, concrete application, curing, decking, tiling, and coping will follow. Lastly is finishing the interior. 
For concrete application, this is where your team would lay concrete to the steel reinforcement. There are two ways to perform it, one via pouring and one through spraying via a hose. Gunite belongs to the latter. 
What Is A Concrete Pool?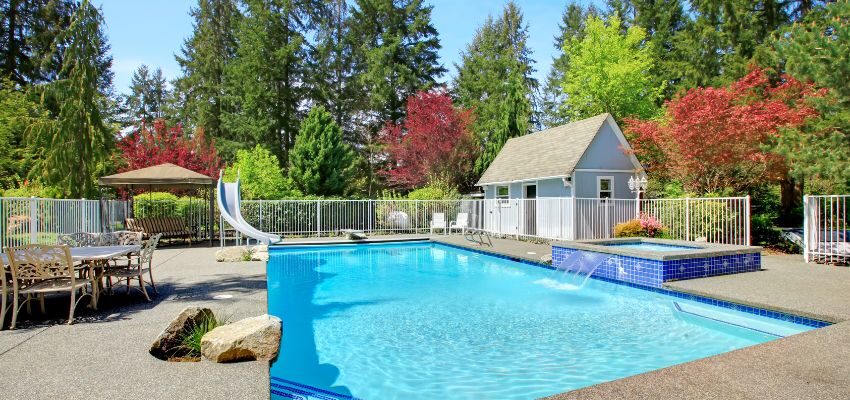 A concrete pool is the most common type in most houses. Constructing one utilizes concrete, which is a mix of water, cement, sand, and a coarse kind of aggregate. The aggregates are materials comprising small particles, usually small pulverized stones or gravel. When constructing, workers pour concrete into a steel form and then add finishing plaster or tiles. 
Concrete pools are very durable and customizable. They allow homeowners to craft unique shapes and depths that suit their style and needs. The downside of having one is it can take several weeks to build. Concrete pools also demand regular maintenance to preserve their pristine condition.  
Pros Of A Concrete Pool
Customization

. You can tailor concrete pools to any size, shape, and depth, allowing for unique and personalized designs.

Durability

. Concrete pools can last for many years with regular maintenance and can withstand different pressures.

Aesthetic appeal

. Versatile finishing options provide an attractive and luxurious appearance. 

Strength and structural integrity

. Suitable for areas with challenging soil conditions.

Design features

. Integration of various design elements enhances functionality and visual appeal.
Cons Of A Concrete Pool
Cost

. Initial construction can be expensive due to labor and materials.

Longer installation time

. Construction may take several weeks or months, depending on the complexity and site conditions.

Maintenance

. Concrete pools need regular maintenance, like replastering, because they are prone to algae and stains.

Rough surface

. Some may find the textured surface uncomfortable.

Chemical absorption

. Porous nature can lead to imbalances in water chemistry and increased chemical usage.
What Is Gunite Pool?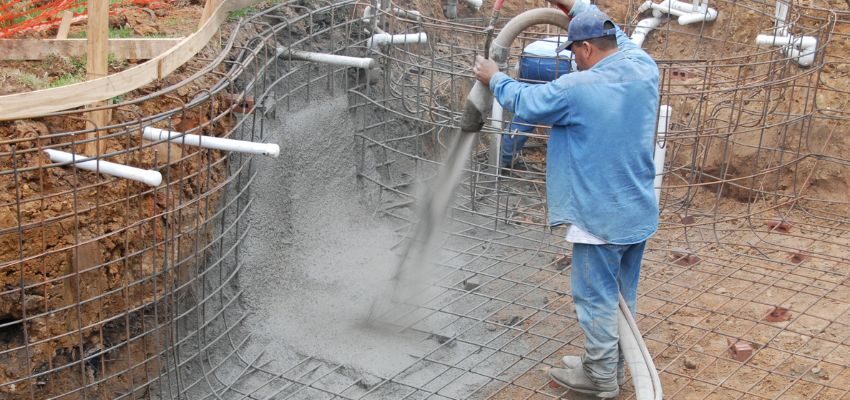 If you're wondering what is gunite – it's a dry concrete mix that only combines with water at the end of the nozzle as it's being sprayed onto a surface. Gunite pools are concrete-based, constructed from a fortified sand, water, and cement mix. The application involves spraying layers onto steel rods to shape the pool. 
Pros Of A Gunite Pool
Customization

. Gunite pools give homeowners the freedom to design pools that are unique and personalized. They can choose the shape, size, and features. 

Durability

. Gunite pools are durable and can handle tough weather, soil movement, and external pressures.

Aesthetic appeal

. You can finish the surface with plaster, aggregate, or tiles to achieve a more luxurious and pleasing appearance.

Strength and structural integrity

. Gunite pools work well in areas with tough soil and can handle seismic activity.

Design features

. Gunite pools can include design features like waterfalls, spas, steps, and benches to make them more functional and attractive.
Cons Of A Gunite Pool
Cost

. Building gunite pools is more expensive due to the labor-intensive construction and specialized equipment required.

Construction time

. Building a gunite pool is time-consuming and depends on the complexity of the design and weather conditions.

Maintenance

. Gunite pools need regular maintenance. This includes resurfacing every 10-15 years to keep them looking good and strong.

Rough surface

. Gunite pool surfaces can be abrasive to the skin, which may cause discomfort for sensitive swimmers or young children. Additional finishes, such as tiles, can address this issue.

Porosity

. Gunite can soak up water over the years. It can lead to water imbalances, increased chemical usage, potential staining, and algae growth.
What Is A Shotcrete Pool?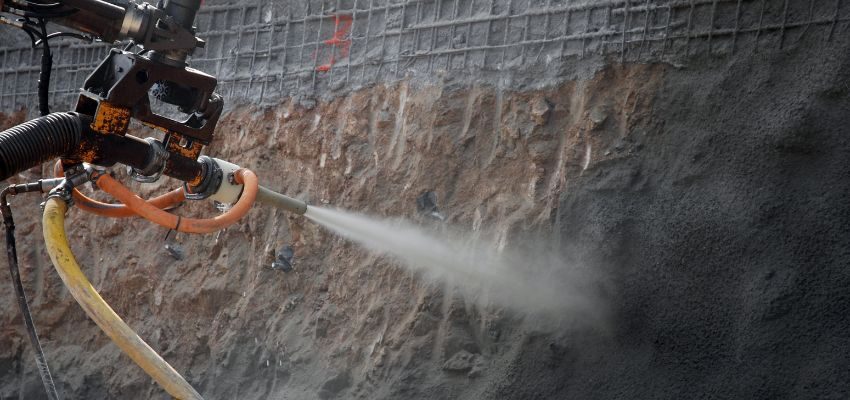 Shotcrete can be a wet-mix or dry-mix blend of cement, water, and sand thoroughly mixed in the cement truck's barrel before it's shot out of a hose at high velocity during application. Using shotcrete for pool construction is more efficient and flexible. 
In the shotcrete vs gunite debate, it's crucial to know that shotcrete shares some similarities with gunite. However, it stands out in terms of application efficiency and durability. The rapid application and strength of shotcrete make it an ideal choice for various pool projects.  
Pros Of A Shotcrete Pool
Strength and durability

. Shotcrete pools are renowned for their strength and durability. The application process, which involves spraying a high-strength concrete mixture, results in a solid and long-lasting pool structure.

Design flexibility

. Shotcrete allows versatile design options, similar to gunite. You can create unique shapes, features, and finishes tailored to your preferences. 

Efficient construction

. Shotcrete is faster than traditional concrete, so construction can be quicker and more efficient.

Less material waste

. The application process generates less material waste, making it an eco-friendly choice. 
Cons Of A Shotcrete Pool
Skilled labor

. Shotcrete application requires qualified and experienced professionals. To build pools, it's important to prepare the mixture and spray it correctly.

Potential for clogs

. While the application is generally efficient, clogs can happen in the spray equipment. Removal of these clogs can be time-consuming and may disrupt the construction process. 

Limited availability

. In some places, it may be hard to find shotcrete, which could affect your pool project. 

Cost

. Shotcrete may have a higher upfront cost than other pool construction materials. Skilled labor and specialized equipment also add up to the price. 
Concrete Vs. Gunite: A Side-By-Side Comparison
Feature

Concrete

Gunite

Durability 

Concrete pools have a higher permanence than Gunite pools. Concrete pools are made up of solid reinforced concrete. It makes them more resistant to weathering and deterioration.

Gunite pools are made up of a spray on a mixture of sand and cement. It makes them significantly less durable in comparison.




 However, the high-pressure application of Gunite allows the concrete mix to stick to the surface more easily. Spraying with Gunite usually results in a more durable and long-lasting pool. 

Installation 

Concrete pools take longer to install compared to gunite pools. It is due to the intensive installation process. It requires more labor. Concrete pools are also dependent on sound weather conditions. 

Gunite pools demand comparatively less installation time. The material used in these types of pools dries quickly. It allows quicker construction. 

Maintenance

Concrete pools require more repairs and resurfacing over the years. These pools also are more vulnerable to algae. Concrete is porous in nature. 

Both Concrete and Gunite pools need regular maintenance. These maintenance include cleaning and checking of ph Levels. Still, concrete pools require more maintenance than Gunite pools.

Lifespan

Concrete pools have a longer lifespan than Gunite pools. They can last around 30-50 years. 

Gunite pools usually last 15 to 20 years before needing extensive repairs and resurfacing.

Cost

Concrete is pricey, and its installation process demands more labor.  

Gunite's overall cost can be expensive too. The overall price of it can differ based on factors such as the size and complexity of the design. 




Gunite pools require more labor to construct and must be reinforced with steel rebar. 

Design Options

Concrete pools can be custom-designed to any shape and size. The poured concrete construction method has greater flexibility in designs such as waterfalls, integrated spas and custom steps. 

Gunite pools allow for more design options and flexibility. Because it is sprayed into the pool's surface, it allows for more intricate and unique designs. They can make cool shapes, curves  and contours.
What Is The Difference Between Gunite And Concrete?
Gunite and Concrete pools can both give you quality and endurance. However, depending on your needs and budget, you should definitely weigh their own best features and disadvantages. Both of them are durable. If you want a pool that have great variety for design flexibility, and is easy to install, do Gunite. If you want a cost-effective and a pool that can last for many decades, opt for Concrete. 
Shotcrete Pool: Gunite Vs Shotcrete
Gunite and shotcrete are no more than two varying methods of applying concrete. But how do they differ, and which one is better? 
With gunite application, you apply premixed dry material and shoot it via a hose to a nuzzle. It is when it finally combines with water. Gunite is cheaper and more manageable to clean up. Shotcrete, refers to wet concrete mixed generally developed by a cement truck. The process for this requires less equipment and is faster. 
Gunite is cheaper than shotcrete. With Gunite, you can stop and start the application without creating any weak points. It also has super high strength with low shrinkage. However, Gunite requires a much more experienced crew. The hose can get blocked by the dry concrete. It can be messy to work with and can produce a lot of over-spray and rebound. 
Shotcrete doesn't have to have a skilled crew. It calls for a faster process. It has higher production rates and needs less equipment. It's also easy to get materials. Also, it's easier to add specialized mixtures to the concrete. However, if the hose gets clogged, it can be tough to clear and may be dangerous for the crew and property. The hose is very heavy. Shotcrete can't start and stop the application. Otherwise, you will make weak points in your pool. 
Gunite and shotcrete have their own pros and cons. Both can successfully produce a high-quality watertight and durable swimming pool. Choosing one over the other boils down to what your builder prefers.
Frequently Asked Questions About Concrete Vs Gunite Pool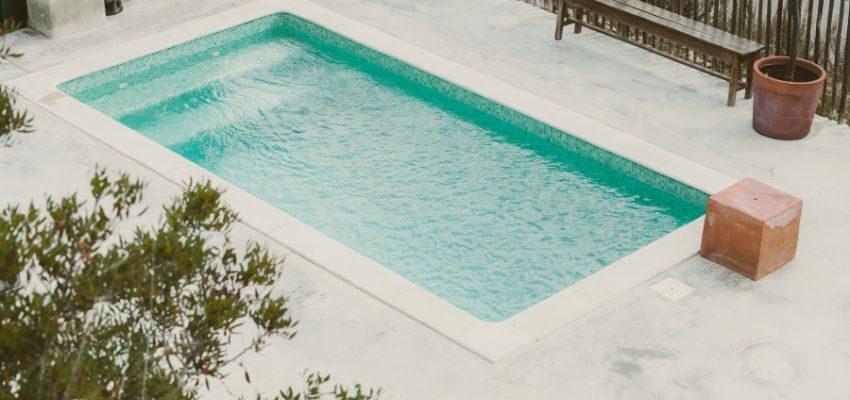 1. What are the maintenance requirements for gunite and concrete pools? 
Both gunite and concrete pools need regular maintenance to keep them in good condition. This includes constant cleaning, water balancing, and routine structural inspections. 
2. Which type of pool finish lasts longer, gunite or concrete?
Gunite and concrete are similar in terms of finish options. The lifespan of the finish will depend on the quality of the material used, local climate conditions, and regular maintenance. 
3. Which type of pool is faster to construct, gunite or concrete?
Gunite pools are quicker to build because of the spraying process. Traditional poured concrete takes longer due to structural setup and curing.
4. Can I add waterfalls, benches, and tanning ledges to both types of pools?
You can add various features to both gunite and concrete pools, such as waterfalls, benches, and tanning ledges. Gunite, in particular, offers design flexibility, making it suitable for a customized pool. 
5. How can you tell the difference between concrete and gunite?
Gunite is the dry mixed form of sprayed concrete. In most variants, it only contains fine particles, while concrete contains both large and small particles. When using gunite, builders load a premixed dry material into the delivery equipment. Compressed air moves through a nozzle where it mixes with water. 
6. Gunite vs shotcrete – is shotcrete a better alternative for gunite in pool construction?
When building a pool, choosing between shotcrete and gunite depends on your specific needs and preferences. Shotcrete is efficient and speeds up construction. Gunite is more flexible in design. To make the right choice for your project, consult with Boca Raton pool contractors. They can offer expert guidance and advice.
In constructing your indoor pool, it's crucial to consider the material that you will use. Gunite and concrete are two of your best bets in making you a long-lasting, appealing, and durable pool. Still, it would help if you were informed. You must have knowledge of all their respective features, details, and possible setbacks. The answer of which is better between the two is Concrete. But there are still considerations that make Gunite better than the others. Both have pros and cons, ultimately depending on your liking.
Hire Boca's Favorite Pool Builders
Excel Pool and Patio Solutions is your trustworthy provider of pool services in Boca Raton. We are experts in pool and patio remodeling and can handle your resurfacing needs as well. Our technicians are vetted and trained for your guaranteed satisfaction. Get to know us by browsing our website or reaching out to us with any questions.
Contact our team today to request a free estimate for pool construction, maintenance, repairs and more.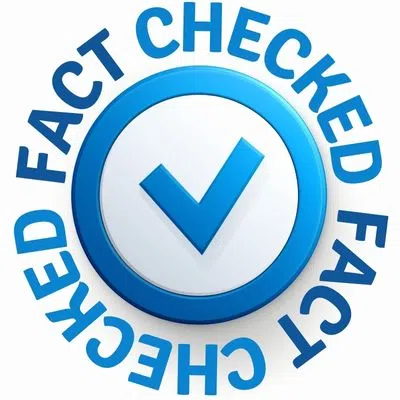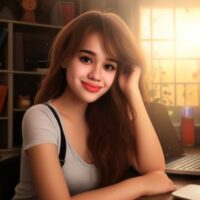 About The Author
I am Tracy Gorman, a seasoned writer from the Philippines. I possess the research and writing skills to delve into any niche. Get to know me!